Home Safety
Best Small Fire Proof Safe Worth Considering
In the event of a break-in or fire, which occurs every 23 to 93 seconds in the U.S., a fireproof safe is the best way to protect your valuables. Finding the right fire-rated safe is critical whether you want to store a large number of items in a large floor-mounted safe or protect important documents and valuables, such as birth certificates, in a small portable safe.
Most fireproof models come with keys, electronic combination locks, or both. You can also select from a variety of sizes, thicknesses, and shelf configurations. Based on our extensive research, we have compiled a list of the best fire proof small safes, as well as a few reasons why we chose them. Here's what you need to know.
What To Consider When Looking For A Fireproof Safe
There are numerous options available in the market for fireproof safes nowadays. Beginners and first-time homeowners could easily get confused about what safe to buy. Here are a few things you should keep in mind when choosing a fireproof safe. 
Fire Resistance
A fireproof safe is expected to withstand high heat and flames, but not all safes are created equal. Some have low fireproof ratings and can only withstand extreme heat for 30 minutes before sustaining damage. Many models are rated for one hour of fire exposure, while the most robust safes are rated for two hours. Some fireproof safes are also waterproof or drop-tested.
A fireproof safe that could withstand 1,550 °F to 1,700 °F for 60 minutes offers good enough protection for your valuables.
Weight
Fireproof safes are available in a variety of weights, which greatly affects how portable they are. Some larger safes can weigh 45 kilograms. or more, which can be a deterrent to thieves but not so much if you want to transport your safe. Choosing a lighter fireproof safe will be more convenient if you need one to carry around with you. There are many portable models that weigh between 4 and 7 kilograms.
Lock Mechanism
Choose a strong locking mechanism for your fireproof safe to keep its contents safe. Traditional lock-and-key closures are available, but there is a risk of misplacing the key. Other fireproof safes include a keypad where you can enter a passcode to unlock the safe. However, some safes employ a combination lock, which eliminates the risk of lock-picking associated with a keyhole. Choosing the appropriate lock mechanism for your fireproof safe is entirely up to your preference, but we recommend going for a combination lock for improved protection.
Top Picks For The Best Small Fire Proof Safe
It is critical to keep important documents and valuables safe during an emergency. A fireproof safe that can withstand high heat for an extended period of time while also preventing any break-i attempts is a must-have for your home's security and your peace of mind. Here are our top picks for the best small fire proof safe that you should have at your home.
Price: $264.99
Material: Alloy steel
Dimensions: 16.3 x 19.3 x 17.8 inches
Lock Type: Electronic
Weight: 39.4 kgs.
SentrySafe products are guaranteed to be reliable and can provide optimal protection to your valuables. This safe earns the top of our list as it can protect its contents from scorchingly high temperatures of up to 930 °C (1,700 °F) for an hour.
Additionally, it stays watertight for up to 24 hours, offering maximum safety during floods or the aftermath of a fire response. The SentrySafe SFW123GDC uses a digital keypad to lock and unlock the safe but also comes with a secondary backup key.
| | |
| --- | --- |
| Pros | Cons |
| Can withstand 930 °C for up to 60 minutes | Expensive |
| Waterproof for up to 24 hours | Keypad requires batteries |
| Digital keypad | Limited chamber space |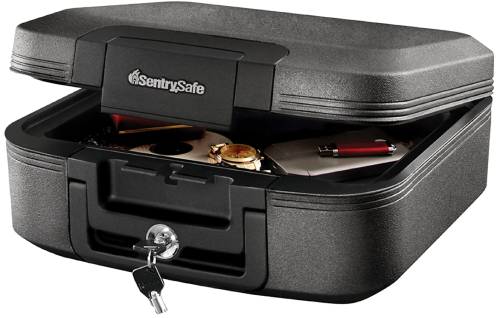 Price: $65.99
Material: Captured fire insulation
Dimensions: 12.1 x 15.4 x 6.6 inches
Lock type: Key
Weight: 7.7 kgs.
While the SentrySafe CFW20201's capacity is only 0.25 cubic feet, it is big enough for essential documents that you may need to secure in a fire. The interior fits standard 8.5 x 11-inch papers perfectly, including your insurance policies, birth certificates, passports, and other essentials. In addition to being portable, it also protects at temperatures up to 840°C (1,550 °F) for up to 30 minutes.
| | |
| --- | --- |
| Pros | Cons |
| Small and portable | Requires a physical key |
| Affordable | Rated for only 30 minutes of fire protection |
| Can withstand up to 840°C | Limited champer depth |
Price: $98.99
Material: Alloy steel
Dimensions: 11.7 x 15.5 x 12.5 inches
Lock Type: Combination lock (electronic and key)
Weight: 19.5 kgs.
When you need something more substantial than a standard lockbox, the Diosmio Fireproof Safe Box is an excellent choice. It has been certified to be fireproof for 30 minutes. This box also comes with an HD LCD digital keypad, a free fireproof bag, a removable partition, and 1.72 cubic feet of storage space. There is also an anti-pry panel mechanism on the door.
| | |
| --- | --- |
| Pros | Cons |
| Anti-pry panel | Combination lock a bit tricky to use |
| Solid steel construction | Requires batteries |
| Substantial chamber space | Lower fire ratings |
If you need a durable safe to store your jewelry collection, check out our quick guide on jewelry safes.